All images are by Tom Callins
SPARK Park of the Month
Arabic Immersion Magnet School – Houston ISD
4001 Stanford St., Houston, Texas 77006
Throughout January, we will feature the SPARK Park at Houston ISD's Arabic Immersion Magnet School (AIMS) in our calendar and on social media. AIMS is the first Arabic public school in the country. In 2015, Houston ISD launched the school, which offers half-day instruction in Arabic and half in English. The majority of their student population does not have an Arabic background. And, the U.S. State Department identifies Arabic as a field of study for which there is great demand but little supply; thus, AIMS opens doors, providing future career possibilities.
Transforming a parking lot into an inviting place to gather and play was a challenging prospect. The AIMS SPARK Park greets visitors with 500 hand-painted tiles from its students, created under the help of visual artist Rose Toro. The school's owl mascot makes multiple appearances on the gates, as well as on the mural painted by artist Angel Quesada.
What was once a parking lot is now a much-needed playground with a Gaga ball pit, obstacle course, omni spinner, benches, soccer field, bike racks, and new trees. Contributors include the First Montrose Commons Civic Association and many neighborhood residents, the Montrose Redevelopment Authority, the Kinder Foundation, Houston Endowment, The Brown Foundation, Council Member Abbie Kamin, and Harris County Precinct One Commissioner Rodney Ellis, plus the AIMS PTO.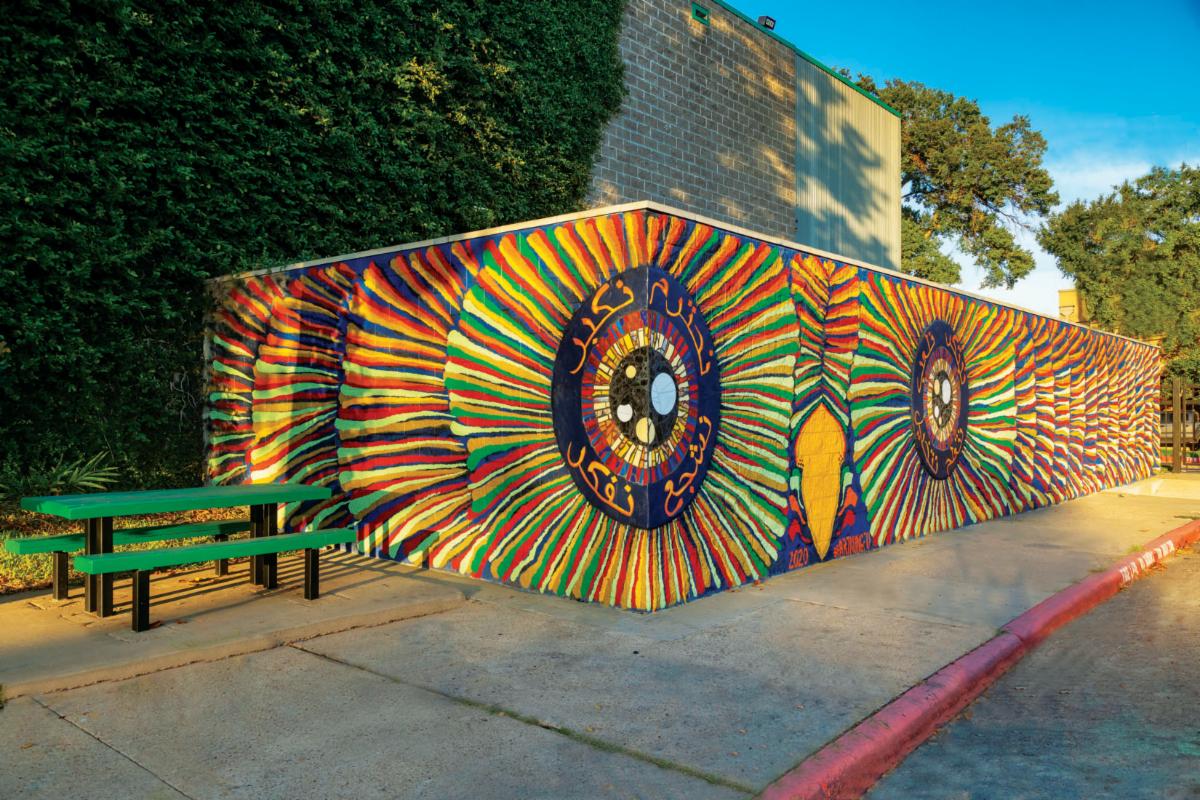 Your SPARK Park
Remember, all SPARK Parks are open to the community after school, on weekends, and holidays.
SPARK combines efforts and contributions from many sources: local school districts, Harris and Fort Bend Counties, City Council Members, the private sector, corporations, neighborhood groups, PTA/PTO groups, and concerned citizens. The mutual cooperation of these entities is just one aspect that makes the SPARK program unique. Currently, there are over 150 active SPARK Parks in Harris and Fort Bend Counties.
For a map of active SPARK Parks, please visit the SPARK website at www.sparkpark.org.
Contributions and inquiries can be sent to: SPARK, P.O. Box 1562, Houston, TX 77251, or you can use this link.
And, NEW 2022 SPARK Art Calendars are ready. Let us know if you would like one!